LANDSCAPE CONSTRUCTION
---
SPORT INFRASTRUCTURE
---
SEWER SYSTEMS
---
SPORT INFRASTRUCTURE
Sports grounds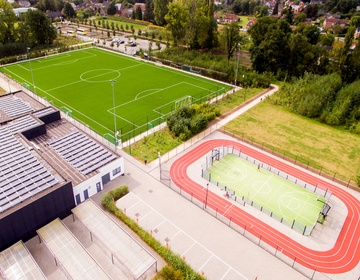 Sportinfrastructure has known a spectacular technical development in recent years.
More and more sport clubs see the enormous benefits of synthetic turf sports fields; they can be used 24 hours a day, 7 days a week and have lower maintenance cost than natural grass. The right choice of material and the stability and flatness of the foundation are of utmost importance. A solution to size is offered for any sport club, according to your needs and possibilities.
We have a passion for our job, just as our clients have a passion for their sport. But passion is nothing without technique.
Here also MAB can offer great additional value. We can offer technical assistance and always strive for the most efficiënt solutions.